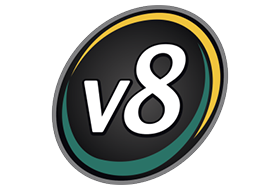 Smaart v8 is the most powerful, flexible and adaptable version of Smaart to date. From studio to stadium, shop to show, Smaart v8 fits the needs of any measurement situation.
At its core, Smaart is a computer based dual-channel FFT platform that we use in our work as audio engineers to view the frequency content of signals or measure the response of our electrical and electro-acoustic systems, all to better make informed decisions about the deployment and operation of those systems. Getting started with Smaart v8 requires some basic hardware requirements beyond the Smaart software and host computer. At the minimum, for electro-acoustic systems (PA system analysis), a 2×2 audio device interface and a single measurement microphone will suffice. This is however only the beginning, as Smaart is purpose-built to scale up to fit the requirements of even the most complex systems and environments. The only practical limitation of Smaart is your own – be it expanding your hardware universe, or improving your knowledge through practice and training.
Real-Time Mode: Spectrum Engine
Configure as many single-channel engines as you need, each with the ability to produce its own RTA and Spectrograph data.
RTA
Fractional-Octave banding, up to 1/48th octave resolution
Multi-Channel input allows for simultaneous display of multiple individual RTAs – as well as "live averages" from one or many inputs.
"Line-Over-Bands" view of RTA displays both raw and banded data
Show Peak-Holds, Target Curves, display THD & calibrated plots
FIFO and Integrating Averaging
Spectrograph
Spectrum-over-Time with amplitude represented by color.
Real-Time adjustable dynamic range
Scrollable 1000+ line history
Adjustable Slice-Height
Full Color, or Black & White display
Real-Time Mode: Transfer Function (Frequency Response)
Phase, Magnitude and Coherence Plots.
Virtually unlimited simultaneous live TF engines, even from multiple interfaces. (Multi-Device Transfer Function engines require sample-clock sync)
MTW (Multi-Time-Window) FFT provides better than 48th octave resolution from 60Hz up and 1Hz resolution up to 140 Hz.
Up to 1/48th octave smoothing for both Phase and Magnitude plot displays
Coherence weighted live or stored data averaging.
Delay Tracking automatically measures and adjusts
TF delay for every measurement cycle.
FIFO and Integrating Averaging
Live IR
Window centered at the TF's delay
User-selectable FFT size up to 32k
FIFO averaging up to 16 FIFO
Display data Linearly, Logarithmically, or as ETC (Envelope Time Curve)
Sound Level Monitoring and Logging
SPL and Leq monitoring of any calibrated input
A, C, Z (none) and 1/1 Oct frequency weightings
Comprehensive log file with intervals as small as 1 sec
Class 1 or Class 2 compliance when combined with 10EaZy hardware
10EaZy Maximum Average Manager (MAM) when 10EaZy hardware is connected
Scalable, windowed, modeless display grid
SPL Alarms and "Traffic Light" color options
Remote Web Viewer
Impulse Response Mode
"Navigator" pane with full IR record in linear view for controlling time domain zoom & non-destructive IR cropping
Lin, Log, ETC, time domain plots
Spectrograph and Magnitude frequency domain plots
Schroeder Reverse Integration Curve and Decay Measurements (RT60, EDT)
Intelligibility criterion including CIS, STI, and STIPA.
Octave and 1/3 Octave bandpass filters
Supports synchronous noise/FFT size for pseudorandom pink noise and pink sweep stimulus when using Smaart's internal signal generator.
Dual-Mono Signal Generator
Random Pink Noise
Psuedo-Random Pink noise

Adjustable TC up to 1024k
Broadband or user-defined band-limiting
Speech Weighted

Sine Wave
Dual Sine Wave
File (plays standard .wav file)
Data Acquisition
Unlimited input channels/devices
ASIO, Wav and CoreAudio driver support
Time domain filtering/input calibration
Gain and Phantom control and Gain Tracking with Roland Octacapture
10EaZy hardware integration for pre-calibrated sound level measurement
Powerful. Flexible. Smart.
Smaart v8 is the most adaptable, intuitive, multi-channel version of Smaart to date. From studio to stadium, shop to show, Smaart v8 fits the needs of any measurement situation.
Representing the next step in modern computer based dual channel FFT analysis; Smaart v8 users will appreciate its intuitive GUI with the straight-forward measurement configuration, controls and data handling processes that have helped make Smaart the most widely used and highly trusted computer based audio measurement platform in the world.
Purchasing a copy of Smaart gives you access to some of the most cutting-edge measurement processes available. The Smaart measurement platform enjoys continual development, implementing expansions which reflect the advancements in our audio industry – not just in equipment and systems available, but also in our collective knowledge as we (…the royal We) develop new tools and techniques. New features are added regularly, not just from our own developmental priorities – but also from requests via our active community of professional users.
Multi-Channel, Multi-Platform, Multi-Window, Multi-Mania
Smaart v8 is inherently multi-channel, multi-platform, and multi-window; able to access modern multi-channel I-O devices and operate native in both Windows and Mac Operating Systems (including 32-64 bit versions). Meaning v8 can run multiple simultaneous Spectrum and Transfer Function Measurements, in multiple windows, all from a single installation of Smaart.
Easy & Intuitive Measurement Configuration
The measurement configuration process in Smaart v8 provides a highly streamlined workflow – with automatic measurement creation and management functionality wherever possible. V8 supports a "build-on-the-fly" process that is often an operational necessity. Specifically:
The program workflow takes you through device selection/configuration and automatically creates Spectrum measurements.
Device and measurement configuration is managed in a single window.
Input metering right in I-O Config – check your inputs even before you've created measurements.
Creating a Transfer Function measurement automatically adds its Spectrum contributors to its tab container.
Measurement creation on-the-fly from the main interface via menu or Hot-Key commands.
The Most Advanced Data Handling System in Smaart to Date
Smaart v8 introduces the "Session Folder" – and with it the most functionally practical data handling and storage paradigm in the history of the Smaart platform. Pinned to the top of the Data bar, the Session Folder serves as the target location for all new captured data. Automatically named with the current date when created, the Session Folder may be re-named or swapped out at any time. The global program data bar keeps all of your data organized and at your fingertips with nested folders and convenient options such as "New Folder From Selected" or the ability to quickly average selected stored traces of the same type via right select > "Average".
Touch Friendly Controls
The increased popularity of tablet/touch screen computers complicates the use of its various hot-key commands. To address this, Smaart v8 utilizes a command menu and user-configurable command bar with large touch friendly buttons that can be used to call any of Smaart keyboard-based, hot-key commands.
Smaart-to-Smaart Remote Control
Smaart's integrated API allows any copy of Smaart v8 to act as a host to any other copy of Smaart v8, meaning you can create a rig with one computer acquiring input signals and performing the measurement computations, while another acts as a client and remotely accesses the measurement data. This capability then allows your v8 environments to be spread not just across multiple monitors, but across multiple computers.
Simple, Friendly, Customizable GUI
Much effort has been expended in reducing unnecessary User Interface (UI) clutter. We give a lot of attention to ensuring the interface is intuitive and that data is presented in a clear and meaningful way. Furthermore, Smaart v8's highly customizable interface allows you to hide or show any of its control elements – you can see as much or as little of the main UI as needed for any situation. Want to have a full screen plot area during show time? No problem. Want to expand an SPL meter for visibility from afar? Easy. Hot-key or touch commands enable you to quickly change the interface layouts and View-Presets allow you to jump to any pre-set or user-defined plot configuration.
Make Use of the Power
With the relentless expansion of the processing power, speed and memory in personal computers comes the potential for greater measurement power and possibilities – if you can make use of it.  Picking up where the Smaart v7 code base left off, v8 is inherently optimized to make use of the power that modern processor configurations present; whether that be from a basic dual core Intel i5, or the most cutting edge power-house processor available. Your Smaart rig might not need to use all your PC's power right now, but if history is any indicator, you will.
Minimum Req.
Windows
OS Version
Windows 7
Processor / CPU
2 GHz Dual-Core
Memory / RAM
2GB
Graphics
Intel HD 4000 OR 256mb VRAM
Display
1024 x 768
Sound
Compatible ASIO or WAV/WDM drivers
Remark: Replace the fix into the smaart program files …. (2 files)

Run the RunAsDate.exe and setting same as below date and tick the Immiediate Mode…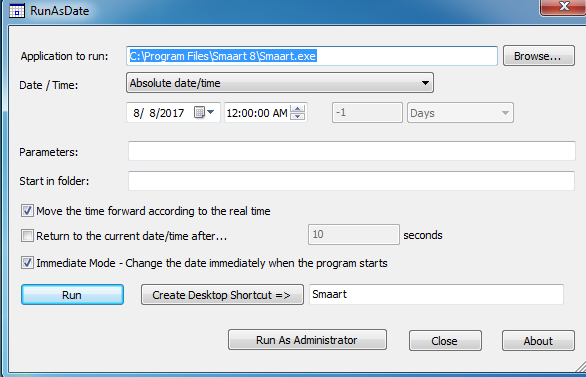 Create a shortcut as well for easy to run next time.. (delete the original shortcut)
Run the program… This is due to time bomb in the program… We change the date and use…
(Installer with crack) x86