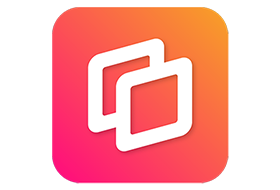 Reflector is a wireless mirroring and streaming receiver that works great with Google Cast™, AirPlay™ and AirParrot 2®. Mirror your content to the big screen without wires or complicated setups. Play games, watch movies, demo applications or present from the palm of your hand. Even send your screens directly to YouTube for others to watch live. Everything you do on your device can be wirelessly sent to Reflector!
AirPlay, Google Cast and Miracast together
Reflector turns Mac, Windows and Android devices into AirPlay, Google Cast or Miracast receivers. Use Reflector to wirelessly display and record iPhones, iPads, Chromebooks, Android devices and Windows tablets on a bigger screen.
No extras required
Reflector works with the devices you use every day and doesn't require any adapters or cables. Reflector is completely wireless, so you can leave the cables and adapters behind.
How it works
Reflector communicates with devices that use Google Cast, Miracast and AirPlay mirroring. This allows those devices to connect to Reflector and mirror their screen without any additional software.
Reflector 3 Features:
Reflector 3 does more than your average screen-mirroring receiver. These are the features you'll be talking about.
Screen Mirror
Wirelessly mirror one or more devices of any type to your computer.
Record
Record any mirrored device. Add voice-over audio and customize recording when needed.
Device Control
Emphasize, hide or show devices and select device frames all from one central location.
Security
Prevent unwanted connections and restrict access to only those who should be mirroring.
Stream
Stream home videos or movies to Reflector 3, or share photos on a larger screen.
Other Notable Features:
AirPlay
Reflector can receive mirroring connections from Mac, iPad, iPhone and iPod touch.
Miracast
Connect Windows devices with built-in Miracast to Reflector 3. Compatible with Reflector 3 for Windows only.
Google Cast
Reflector effortlessly receives Chromebook and Android screen mirroring and streaming connections.
Audio-Only Streaming
Reflector can act as an audio-only receiver. Stream your favorite music to a computer connected to larger speakers.
Connect Multiple Devices
Devices with built-in AirPlay, Google Cast or Miracast can connect to Reflector 3 simultaneously.
Device Frames
Choose device frames to make your mirrored screen look like your real device, or choose a different frame to test a new look.
Full-Screen Mode
Eliminate distractions from other applications or desktop items and choose background colors or images to go along with mirrored screens.
Compatible with AirParrot
Add AirParrot to your device and connect to Reflector 3 for even more advanced screen-mirroring options.
Connection Prompts
Choose to allow or deny a device connection before it's shown on your screen.
(Precracked Silent Install Repack) x86
(Precracked Silent Install Repack) x64