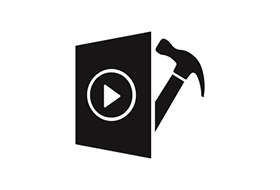 Repairs Corrupted, Broken, or Unplayable Video Files
Repairs 17+ video file formats including MP4, MOV, AVI, MKV.
Repairs multiple 4k, 8k, 360o & VR videos simultaneously.
Repairs severely corrupt video files using sample files.
Restores video files on Windows 11, 10, 8 & 7.
Repair Videos from any Camera
Stellar Repair for Video can repair videos shot with all leading camera brands — Canon®, Sony®, Go Pro®, Olympus®, Nikon®, Fuji®, Samsung®, Panasonic®, DJI®, Parrot®, Skydio®,Blackmagic® etc.
Fixes corrupt videos recovered from corrupt media
Supports all storage media — SD cards, USB flash drives, HDDs etc.
Repairs videos created from DSLR, camcorders, CCTV, drone, dash cam, point and shoot, mirrorless, android and iPhone etc.
More Awesome Features
Complete Video Repair Solution for Windows & Mac users
Stellar Phoenix Video Repair software now Stellar Repair for Video tool is a complete digital video repair solution for Windows and Mac users. Support for popular video file formats, camera brands, storage media, and ability to fix all sorts of corruptions, make the software the best video repair tool for all.
Fixes Various Video Corruption Issues
The video repair tool can repair out-of-sync, choppy, jerky, truncated, grainy, frozen, blur, and other video issues. The software also fixes video errors like 'error loading media file could not be played' or 'QuickTime Error' etc. It resolves any corruption in video frames, sound section, header, movement of videos, and video slider.
Repair Videos Shot from Phones, Drones, DSLR & CCTVs
The video repair software can fix videos shot from DSLRs, digital cameras, drone cameras, surveillance cameras, Android phones, iPhone, and iPad, etc. Just transfer the corrupt video files from camera to computer, SD cards or other storage media.
Repairs Severely Corrupt Videos Using 'Sample File'
The 'Advance Repair' feature lets you repair severely corrupt videos by using 'Sample File'— a working file of any size created from the same device and of the same format as your corrupt video file. The software uses the sample file information to repair severely corrupt videos.
Previews Repaired Videos before Saving
Stellar Repair for Video lets you preview repaired videos before saving them to your defined location. This helps ensure that all the repaired videos are free of corruption before getting saved.
Repairs Multiple Videos Simultaneously
Repair for Video software can simultaneously repair unlimited number of video files of same or different formats. And, therefore, serves as a quick and convenient way to repair multiple corrupt, broken or damaged video files without compromising the integrity, file structure and quality of the video.
Saves Repaired Files at the Desired Location
Stellar Video Repair software allows you to save your repaired videos at the desired location on any computer drive or external storage media. You can also choose to save the repaired videos at the source location.
100% Safe and Secure download
Stellar Repair for Video is 100% safe and secure tool, free from any kind of virus, malware or Trojan. You can free download this video repair tool on Windows or Mac system without any apprehensions, and fix broken or damaged MP4, MOV, F4V, FLV, DIVX, WEBM videos etc.
Support for all Digital Media Players
The software fixes video files that do not play due to any corruption in VLC Media Player, Windows Media Player®, Media Player Classic, MX player, PotPlayer, KM player, Winamp, QuickTime®, Mplayer, iTunes®, Adobe Flash Player®, Real Player, etc.
Support for All Popular Video Codecs
The software repairs video files that use video codec H.263, H.264, H.265, HEVC, MPEG4, 3GP, Windows Media 8, Quicktime, JPEG 2000, etc.
Cameras Tested with our Software for Successful Results
Our expert team has rigorously tested the software for repairing corrupt video files captured with all leading camera brands and devices in the world. These include brands like Sony®, Canon®, Nikon®, FujiFilm®, GoPRo®, DJI® (Mavic, Phantom), Panasonic®, Samsung®, Olympus®, Flip Video®, Pentax®, Mamiya®, Sigma®, and Blackmagic®. The software also restores video files made with Android® phone and iPhone® cameras, dashcam, CCTV cameras and more.
Premium Edition with Photo Recovery and Repair Capabilities
The software also comes with a Premium edition, where one can not only repair corrupt or broken video files, but also recover deleted videos and photos. One can also repair corrupt or distorted photos. The Premium edition of the software is of great utility for videographers and video agencies who are engaged in activities like video shooting, filming, editing, etc.
Thanks to AMPED release
(Cracked Silent Install Repack) x86