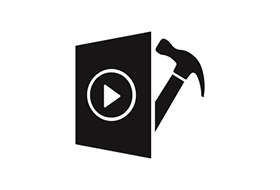 Stellar Repair for Video is the world's best tool for repairing corrupt, broken or damaged MP4, MOV,AVI, MKV, AVCHD, MJPEG, WEBM, ASF, WMV, FLV, DIVX, MPEG, MTS, M4V, 3G2, 3GP, and F4V file formats. It repairs the videos that got corrupt during shoot, when performing file transfer, while editing, converting or processing.
• Repair multiple videos simultaneously
• Efficiently repairs severely corrupt video files using sample files
• Preview repaired videos before saving
• Fix severely corrupt and compressed videos
• Repair videos recovered from corrupt storage media
• Repair Standard Definition, Full HD as well as 4K resolution Video files
Stellar Repair for Video
Fix all types of visual and audio corruptions in videos that are not playing properly. Easily repair videos that have turned choppy, jerky, grainy, distorted, pixelated or show errors.
Digital Video Repair Solution for Windows users
Support for all widely used video file formats, popular brands of cameras, and storage media, make Stellar Repair for Video a complete video repair utility. The Stellar video repair tool fixes all kinds of corruptions and errors including "error loading media file could not be played", video not playing, audio video sync issues, grainy video, frozen videos, video blur etc. The software efficiently resolves all types of corruption and errors found in video frames, sound section, header, movement of videos, and video slider.
Repair Multiple Videos Simultaneously
The Stellar Repair for Video software can simultaneously repair unlimited number of video files of same or different formats. And, therefore, serves as a quick and convenient way to repair multiple corrupt, broken or damaged video files.
Preview Repaired Videos before Saving
You can preview the repaired videos before saving them to a defined location. This helps ensure that all the repaired videos are free of corruption before getting saved.
Simple and Easy-to-Use Interface
Stellar Repair for Video brings an intuitive, user-friendly interface to suit users who have a limited proficiency with using software. With its interactive functionality, you do not require any technical expertise for repairing your corrupt video files. It offers quick video repair through its easy to navigate GUI, in just a few clicks.
Key Features:
Repair severely corrupt videos using 'sample file'
The 'Sample File' feature allows the user to repair severely corrupt video files. A 'Sample File' is a working file of any size created from the same device and of the same format as of your corrupt video file. The software uses the information from the sample file and repairs the corrupt video.
Repair videos shot from phones, drones, digicams, DSLRs & CCTV
The Stellar Repair for Video tool can fix videos shot from DSLRs, digital cameras, drone cameras, surveillance cameras, android mobile phones, iPhone, and iPad. Just transfer the damaged videos from the device, SD cards or other storage media to the Windows or Mac system, download Stellar Repair for Video and fix the corrupt videos with the help of its user-friendly GUI.
Saves repaired files at the desired location
The software allows you to save your repaired videos at the desired location. You can also choose to save the repaired videos at the source location.
Language Supported
English, German, French, Spanish, Italian
Thanks to UZ1 release
(Cracked Silent Install Repack) x64