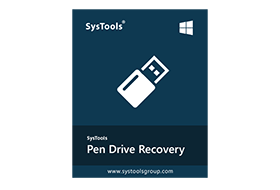 SysTools Pen Drive Recovery Tool is a powerful and safe solution to recover permanently deleted data from pen drive. The software is designed in such a manner that it can retrieve and restore data even after formatting the pen drive Flash Drive / Pen Drive. It supports recovery from FAT, exFAT, and NTFS formatted pen drives and recover files after formatting pen drive in a few simple clicks.
Highlights:
– Recover & Restore videos, images, documents, etc. from pen drive
– Supports recovery from exFAT, FAT and NTFS formatted external storage drives
– Recover & preview the complete data with associated attributes
– Support recovery from pen drive, flash drive, memory card
– Filter Based Advance Search Option: Find items within recovery results
– Separate option for Formatted Scan and Normal Scan
– Software provides Refresh button to view newly attached pen drive
– Software support to recover permanently deleted data from pen drive
– Supports recovery from all brand pen drive of any size
– Provides option to Save either selected files or complete files after recovery
– After recovering permanently deleted files from pen drive, it will Highlight in Red color
– Install Pen Drive Data Recovery Software on any Version of Windows OS
Recover Corrupt Pen Drive Data
Pen drives are the most commonly used storage devices to exchange or transfer data. While connecting the pen drives on various machines, sometimes due to virus attack, trojan infections or improper ejecting the pen drive, it may get corrupt or show error message. Now with this tool, you can successfully recover the data from corrupt pen drive easily.
2 Options to Recover Pen Drive Files
The pen drive recovery software,allows you to recover external storage drive deleted data in two different ways:
– Scan: for corrupted and deleted pen drive data
– Formatted Scan: For formatted pen drive data recovery
Recover Normal Data from Pen Drive
With this option, you can recover the complete data from of a pen drive & retrieve it. The pen drive data recovery software scans the pen drive and load complete data present in it. Later, you can extract the data to save it at any desirable location. With this recovery mode, you can recover the deleted files and folders of the pen drive.
Deleted Files or Folder Recovery
If you have connected your thumb drive in any machine and mistakenly deleted some of the files or folders from it then recovery is possible with Pen drive recovery tool. This software thoroughly scan the pen drive data and load all the files present in it. Further, you can extract and restore the lost or deleted data in your pen drive.
Recover Formatted Pen Drive Files
Formatting of a Pen Drive is a very common practice when the pen drives get corrupt. Although it makes the pen drive clean & virus free but you also lose your crucial data. But now you can quickly retrieve the data from a formatted partition with pen drive recovery tool. Software also supports to recover all the raw Data files like PNG, ZIP, DOCX, JPEG, PPTX, XLSX,GIF, PDF, MPEG, AVI, WAV, BMP etc.
Powerful Search Option to Find Files
Powerful search engine of the tool helps find desired files and folders from recovery results. Use a text / term matching the file name to search for it. This will facilitate in extracting only the needed files and folders selectively from the entire pen drive data.
FAT and NTFS Formatted Pen Drive Recovery
This sophisticated solution recovers data from FAT and NTFS file system pen drives. The affected data could be in; corrupt, formatted, or deleted form. Integration of the advance algorithms of the tool helps recovering data from data stick of any file system successfully.
Live Pen Drive Partition Scanning Report
After selecting the removable disk and scan type for device scanning; software shows a live scan report in a pop up window. The details shown are: selected drive, total size, bytes read, number of folders and files scanned. Once done, you can proceed to preview items within the pen drive or search for particular items instead.
Discover Detectable Devices Automatically
Once the tool is installed and operated, detectable devices with removable storage will be listed via automatic scan. The respective pen drive(s) connected to your system will be shown on software panel. Proceed with desired recovery type by selecting preferred thumb drive. Recover permanently deleted files from pen drive easily.
Preview Chosen Partition Details
On the selection of desired removable disk as Pen Drive; software shows entire details associated with it. These details include: Model, Disc, Name, Type, Total size, and Free size. This gives complete awareness of the scanned device before attempting data recovery on it. Tool can recover data from Pen Drive of any brand as long as it is detectable on Windows OS.
Extract Selective Files/Folder from Pen Drive
After previewing items recovered from the scanned external storage drive, you can extract them at a location of your choice on your machine. Software supports selective Files and Folder extraction. Extract selective folders by using check boxes provided against each of them or hold down CTRL button to select preferred files.
Extended Support for All Windows OS
Pen Drive Data Recovery is a Windows based tool and supports all of its versions. Successfully perform corrupt / deleted / formatted data recovery from connected removable storage device with this software on Windows 10 and any of the below versions without encountering limitations.
Whats New:
– Release notes were unavailable when this listing was updated.
Supported Editions:
Microsoft Windows – Windows 11 (64-bit), Windows 10, 8, 7 (32 bit or 64 bit) & Windows Server 2008, 2012 R2, 2016, 2019
Supports File Systems – FAT 32, FAT 16, ExFAT, NTFS File System & Cross-Formats between NTFS & Other Formats like FAT16 & FAT32
Disk types – Basic & Dynamic
USB Types – USB 1.0, 1.1, 2.0, 3.0, 3.1
Supports Brands Like – SanDisk, HP, Moser Baer, Kingston, Sony, Toshiba, etc.
Application Pre-Requisites:
Microsoft .NET framework 4.5 or above should be installed
If you are using Windows 11 (64-bit), Windows 10, 8, 7 (32 bit or 64 bit) & Windows Server 2008, 2012 R2, 2016, 2019 then please launch the tool as "Run as Administrator".
To recover data from an pen drive, it should connected and detected by the PC where the software is installed.
(Cracked Silent Install Repack) x64
SysTools Pen Drive Recovery 8.0
(Cracked Silent Repack) x86