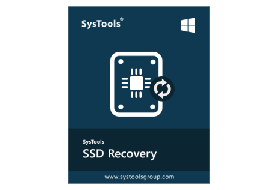 Loss of crucial data from SSD drive is a great disaster that demands a reliable solution to rescue the missing files. SysTools SSD Data Recovery Software is an automated tool, specially designed to recover permanently deleted, formatted, corrupted and lost data items from exFAT, FAT, and NTFS partitions of SSD drives in Windows OS. This Solid State Drive Data Recovery Software is reviewed by MVP and marked it as best.
Highlights:
– Successfully recover deleted data from solid state disk drive
– Restores and saves shift deleted files and folders from SSD
– Retrieves lost files from corrupt and formatted solid state drive
– Supports recovering data from SSD drive: Internal and External
– Provides formatted SSD data recovery from exFat, Fat & NTFS systems
– Ability to restore multimedia, documents, Images, and all other file types
– SSD recovery tool perform recovery from m.2 and NVMe type SSD disk
– Easily detects any connected external SSD drive with Refresh option
– Capable of restoring lost files from GPT & MBR partitions of SSD disk
– Red mark indicates recovered permanently deleted data from SSD
– Software support to recover data from all brand Solid State Drive
– Install Solid State Drive Recovery Tool All Windows Operating System Versions
Recover Files from Corrupted SSD
The improper functioning of controller chip, presence of bad sectors in SSD drives, and some other dangerous factors makes SSD drive data inaccessible. The Advanced SSD Recovery Tool is capable enough to recover data from a minor level or highly corrupted SSD disk drives. It scans all corrupted files/ folders and recovers them in a healthy state within a few simple clicks.
Recover Deleted Data From SSD Drive
With this SSD Recovery Tool, you can easily recuperate data files that have been lost due to intentional or accidental deletion. It performs deep scanning of drive and recovers entire shift deleted data items within a few minutes. In order to avoid inconvenience, it highlights permanently deleted data in red color after performing recovery. So, it is the best utility to recover permanently deleted data from SSD.
– Recover normal deleted data from SSD drives
– Recover permanently deleted (shift + delete) files from SSD
– Retrieve and export deleted files and folders from SSD computer
– Support recovery from internal and external SSD drives
– Recover images, docs, and all other multimedia items from SSD
– Extract data from GPT and MBR partitions of SSD disk
Recover Data After Formatting SSD Drives
Solid State Drive uses solid-state flash memory to store crucial data items. However, sometimes due to data accumulation and other external threats, users need to format their SSD drives. In such cases, the SSD Recovery Software proves handy as it is has a strong potential to rescue entire lost files even if the Solid State Drives gets formatted. Follow the steps below to recover files after formatting SSD:
– Launch SSD Recovery Tool and select the SSD partition
– Click on Formatted Scan and scanning process will begin
– All the recovered files and folders will be listed by the tool
– Search desired files as per their file type and apply date filter
– Save selected or entire recovered data items in a single go
– Support recover after formatting SSD in FAT and NTFS file system
Recover Lost Data from SSD Laptop
If you are using solid state drive on your computer, laptop or pc. And thinking that your saved files, images, videos, documents and other files are safe. Then, you are wrong, the data loss can also be occur in SSD. In this, you need a reliable solution to recover lost files from solid state drive. The SysTools SSD file recovery software is the best utility for tech and non-tech users.
– Recover deleted files from inbuilt SSD in computer
– Retrieve lost files from external SSD on Laptop
– Get Back files from SSD after formatting computer
– Complete data recovery from solid state drive laptop
Complete SSD Data Recovery
SSD drives contain all types of file including data files, documents, audio/ video files, images, PDFs, etc. This tool is capable of recovering all data contained by an SSD disk drive. It can restore any file from SSD drive in their original format.
Recover Formatted SSD Drive Data
Formatting in NTFS or FAT, usually removes all files and folders from a solid state drive. However, SSD Data Recovery software is capable of recovering files from a formatted or reformatted solid state drive. During scanning, it will detect the available partitions and show these to the users.
Restore Data from m.2 and NVMe SSD
There are two types of SSD drive available in the market: NVMe and m.2. This tool is designed to restore deleted files from both types of SSD disk drive (NVMe recovery and m.2 Recovery). No matter which type of SSD you own, this utility will come handy for you.
Recover Permanently Deleted Files from SSD
Often, important files get accidentally shift-deleted from SSD disks. In that case, users should take help of SSD Data Recovery Software. It can retrieve shift deleted files and folders from both FAT and NTFS type SSD drive without a short time. Download the software and recover permanently deleted files from solid state drive easily.
Recover Files from Corrupted SSD
Damaged or corrupted SSD disks can become the cause of user inconvenience. Usually, files of a corrupted SSD disk become irretrievable, but not in the case of SSD Data Recovery Software. The application is capable of restoring files even from highly corrupted solid state drives.
Selective Saving of Recovered Data
Besides recovering data from corrupted SSD disk, this SSD recovery software also allows users to extract and save the data. From the Preview, users can select the files they need to save. The tool will save only those files on any location of the local system.
Features of Quick Scan and Preview
Two useful features of this software provide convenience to its users. Quick Scan recovers deleted files from SSD drive in a short time. Preview shows the retrieved files with attributes like file name, type, creation date, modification date, size, etc. For permanently deleted file recovery from ssd select Scan option and for formatted ssd recovery hit on Formatted Scan.
Search Option within Retrieved Items
Once the lost or deleted SSD drive files are found, users can find out any particular file out of these. The smart searching option offers filters such as "creation date" or "modification date". Using these filters, users can easily locate any file of their choice. The software easily list recovered data into solid state drive file recovery software panel.
Retains On-Disk Folder Structure
You can recover all the corrupted, lost, and formatted data from your SSD in a couple of clicks using this professional SSD recovery software and save the recovered data without any manipulation. In order to avoid user inconvenience, the entire data recovered by the tool will be saved with its original folder hierarchy.
GPT and MBR Partition Recovery
No matter if your SSD is failed, corrupted or inaccessible, the SSD Recovery Tool is an efficient way to recover all the data from it. You can use this software to restore lost multimedia items from GPT as well as MBR partitions of your Solid State Drive. It allows to fix SSD unallocated partition issue.
Auto Detect New Attached External SSD
The software is designed in such a manner that it can auto-detect all the connected external solid state drives to a computer. Users can select any desired drive and check all its basic attributes such as Device ID, Device Media Type, Device Model, File System Type, Total Space, Free Space etc.
Supports all Versions of Windows OS
Solid State Drive Recovery Tool can be operated in any Windows OS. You can download and run this tool on Windows 10, Windows 8, Windows 7, and all below versions of Microsoft Windows OS to retrieve data from any brands' SSD regardless of its size.
Whats New:
• Raw Partition Recovery
Provided support for recovering Raw partition.
• Raw Files Recovery
Provided support for recovering Raw Data (DMG, MP4, M4A, 3G2, 3GP, 7Z, MOV, M4V, WMV, MRW, AU, SWF, AIFF, WMF, SVG, AI, MIDI, EPS, VQF, ISO, MXF, RA, MDB , ARJ, EDB, RPM ) from formatted Drives.
Supported Editions:
– Microsoft Windows – 2000, 2003, 2008, XP, Vista, or Windows 7/8/8.1,10 2008/2012 (32-bit & 64-bit)
– Supports Recovery for File Systems – FAT 32, FAT 16, ExFAT , NTFS File System & Cross-Formats between NTFS & Other Formats like FAT16 & FAT32
– Supported Partition – GPT and MBR
Application Pre-Requisites:
– If you are using Window 10/8.1/8/7 or Vista, then please launch the tool as "Run as Administrator".
– Microsoft .NET framework 4.5 or above
Thanks to drunkenmyno / B4A release
(Installer with keygen) x86 x64 12.0
(Cracked Silent Install Repack) x64 11.0

SysTools SSD Data Recovery 7.0.0.0
(Cracked Silent Repack) x86 x64