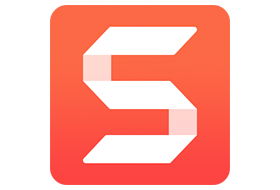 TechSmith SnagIt is the award-winning screen capture software. It will help you capture great looking images and videos with just a few clicks.
Using Snagit, you can select and capture anything on your screen. Then easily add text, arrows, or effects, and save the capture to a file. Or share it immediately by e-mail or IM. Easily customize any screenshot with effects, or show off what's important with TechSmith Snagit's markup tools.
You can also create quick videos by recording your screen. Capture and Edit Images. Grab your entire desktop, a region, a window. Or a scrolling window from any webpage or app and mark it up with loads of effects. Record a Video of Your Screen. Quickly show anything on your screen by recording a video. And you can even trim out any parts you don't need.
Save your files to your computer, send them directly to Google Drive, Microsoft Office, or any of TechSmith Snagit's other sharing options.
TechSmith Snagit Features:
Scrolling Capture. Quickly capture everything on the page even if it's not showing on the screen. Grab the horizontal, vertical, or entire scrolling area with just a click.
Video Capture. Sometimes It's easier to talk things through. Create, narrate and trim quick videos of your screen for demos, feedback, reviews, and more.
TechSmith Fuse. Capture beyond your desktop. Get TechSmith Fuse for your Android or iOS phone to send photos and videos from your mobile device straight to the Snagit editor
Video Trimming. Quickly get rid of any unwanted sections from your screen recordings. Remove ums, ahs, coughs, extra time from the beginning, middle, end or any mistakes you want to correct.
Step Tool. Quickly highlight a series of steps in TechSmith Snagit. Each click applies the next number in the series. Your sizes and styles stay the same so you can easily keep a consistent look to your projects.
Stamps. Personalize your images with graphics specifically designed for screen captures. Get them straight from Snagit, or download more here
More Features:
Special Effects. Add effects like border, shadow and perspective to your entire capture. Or, create your own custom style.
Fast and Easy Sharing. You share content across many platforms every day. Snagit connects your images and videos with the accounts you already use for a fast and easy workflow.
Google Drive Integration. Upload your images and videos into Google Drive to give your viewers access from any web browser or mobile device. You can also import files into Snagit instantly from Google Drive.
Multi-platform Support. Snagit is one product on two platforms. The software key will unlock both – on Windows and on Mac, so no matter what system you're using you'll be able to get your work done.
Multiple File Formats. Snagit lets you save your images and videos in a variety of file formats. The default file type is PNG, but you can save to JPG, GIF, PDF, and more from within the Snagit editor.
Additional Features:
Library. Quickly find past captures without wasting time digging for them. All of your captures are automatically saved to your library, with the most recent captures viewable all the time.
Profiles. Work faster by saving your capture settings as a profile. Set up profiles to automatically remember capture settings, add effects, or send to a specific destination after capture.
Custom Deployment. If you're an IT or system administrator you can customize and deploy Snagit to fit your needs. Configure the MSI, REG settings, or take advantage of a COM server.
System Requirements
Windows System Requirements
Microsoft Windows 10, Windows 8.1, Windows Server 2016, or Windows Server 2012 R2

Windows N requires the Media Foundation Pack

.NET 4.6 or later
2.4 GHz single core processor (dual core i5 required for video capture)
4 GB of RAM
1 GB of hard-disk space for program installation
We recommend the 64-bit Snagit installation when using multiple monitors or a 4k display
64-bit Snagit installation required for Create Images from Templates feature
Changes in TechSmith SnagIt 2020.1.5 (October 13, 2020):
Text tool Quick Styles will now show differences in font sizes
When customizing the toolbar, it's now more clear as to which tools are on the bar and which tool was last accessed by the More menu
Arrow tail callout present when creating custom theme
Media shared to Knowmia will now have working links in the Share History window
PDFs shared to Knowmia are now converted to PNGs first
Improved the visibility of the selected tab in the Capture Window
When creating an Image from Template, your username should now show up at the bottom if you have that setting turned on
Image from Template disabled when more than 10 images selected
Other bug fixes and performance improvements
(Cracked Silent Install Repack)  Windows 7 supported

x86
x64