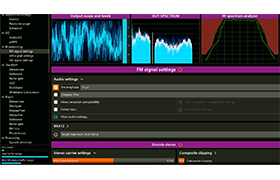 Stereo tool is a software-based audio processor which offers outstanding audio quality and comes with many unique features. It is used by over 1500 FM stations ranging from small local stations to 50-100 kW stations and nation-wide networks with dozens of transmitters, thousands of streaming stations and many DAB+, HD, AM and TV stations. It can be used for both live and file based processing.
If you don't use Stereo Tool for FM processing, Basic suffices.
FM Standard offers "standard" FM processing, stereo and RDS encoding. The processing in this license is comparable to what many high end (00+) hardware boxes offer. In most markets, this license will make you one of the louder stations on the dial.
FM Professional adds our special Composite Clipper to the processing. This is the same clipper that's in the Omnia.9sg and the Omnia.9 and Omnia.7 are being upgraded to it. The Composite Clipper takes the stereo pilot, stereo encoding and RDS into account when generating the composite MPX signal, which increases the headroom for audio by a lot. You can typically generate a signal that's 2-3 dB louder without sounding more clipped, which results in a much more dynamic and much higher fidelity signal. Beside that it unlocks our "Asymmetric L-R" mode, which adds another 1 dB or so. Beside these advantages to the audio signal, the clipper can also analyse the RF spectrum after the exciter, and optimize the signal to reduce reception issues in fringe areas and in multipath areas.
If you can use Stereo Tool to generate the composite MPX signal, we highly recommend the FM Professional version, which sounds much better and improves your reception. To be clear, with FM Standard you're not doing worse than most high end hardware boxes, but FM Professional really takes it to another level – assuming proper hardware you'll be the loudest and cleanest station on the dial.
Declipper
Due to the so-called loudness war, where everyone wants their track to sound louder than any other track, nearly all music from the last 20 years or so has been clipped during mastering. This causes several issues:
It sounds distorted
It lacks dynamics
Low bitrate codecs are using a lot of their bits to encode the distortion, leading to much more lossy compression (MP3, AAC, …) artifacts.
To make things worse, audio processing tends to boost softer sounds, in this case, the distortion, which worsens these problems. The Declipper repairs the audio before it enters the processor.
Our declipper is also used by police forensics labs. The following video shows what it does to clipped audio:
Delossifier
The Delossifier improves the sound of lossy compressed audio. It's targeted at repairing low bitrate MP3 and MPEG2 files. Use this if your playlist contains low bitrate tracks. (But please, do everyone a favor and replace them…. With clipped audio that's usually not possible, but low bitrate is a different story.
Advanced Dynamics
Advanced Dynamics was added in Stereo Tool version 8.50. It consists of 2 parts:
Auto EQ is the most spectacular part. It adjusts the sound before the AGC without compressing it. This makes it possible to have a much more consistent output without sounding processed. Since it doesn't compress the audio, it doesn't add density and doesn't cause pumping or breating. Auto EQ can achieve the same spectral consistency that multiband compression can, without those side effects. It does not affect audio levels, only the spectrum.
Dynamic Ratios makes it possible to have a different ratio in the compressors depending on how much they are pushing the level down. When it gets deeper, it gets steeper. So a very loud sound will be compressed more.
This video shows the Auto EQ in action:
2022/10/17 v10.11
FM/HD diversity delay: Redesigned, moved to inside the processing chain to avoid long dropouts when changing delay or input source.
FM: RDS: RadioText 0x0D end of text indicator causes problems in some non-compliant receivers. Reverted to padding with spaces.
GUI: Presets: Added filtering for built-in vs local presets.
GUI: Presets: Added sorting (creation date, name, …).
GUI: Presets: Selector tabs can now be shown as disabled; the BIMP presets tab is greyed out when the BIMP is not active.
GUI: Presets: Preset selector now has an "All" presets tab.
GUI: Presets: Preset selector no longer selects Config and I/O by default when saving settings as a preset.
GUI: Dropdowns now fully draw (including their borders/margins) when opened for the first time.
Bug fix: ARM console build: MicroMPX encoder in Stereo Tool did not work in ARM console build.
Bug fix: AGC post compressor gate and limit values were swapped, causing the display to be wrong.
10.10 bug fix: GUI showed some warnings on each restart that should only be shown when settings are enabled the first time.
10.10 bug fix: Intrasoncs: Main "on" and FM "on" switch were saved under the same name, causing it to be switched off on restarts when not used for FM.
10.10 bug fix: STAMP and STudio web interfaces failed to load.
10.10 bug fix: I/O: In plugin versions with "Real I/O" enabled, the input amplification gain is was performed twice.
10.10 bug fix: macOS: High resolution screens no longer trigger a 200% zoom.
10.10 bug fix: VST plugins: Always showed a message about an invalid license, even if there is a valid license.
10.10 bug fix: VST Plugins: Keyboard input now works as before (in 10.10 it didn't work at all). (Only works when a key press is received, that's a VST limitation).
10.10 bug fix: VST Plugins: macOS: Interface size issues macOS with high-res (retina) solved.
10.10 bug fix: VST2 Plugin: New storage of license keys caused problems, removed it for VST2.
10.10 bug fix: GUI: Input gain displayed incorrectly in input meter (no separate color).
10.10 bug fix: GUI: Ratio sliders were missing in Multiband Compressor 1.
10.10 bug fix: GUI: Open file window sometimes opened behind Stereo Tool window.
10.10 bug fix: GUI: Meter bars did not show limiting (Digital compressor mode) or de-esser action (in Advanced Clipper).
10.10 bug fix: Password protection: Removed "webinterface only" checkbox for builds that have no native GUI.
10.10 bug fix: 64 bit Intel/AMD non-GUI Linux generic plugin tried to use old preset mechanism, crashed on loading.
Audition bug workaround: VST crashed in Audition 1.5 on Windows
MacOS versions: Added support for Cmd+Q to close.
Linux versions: Added command line option to output version number and exit (–version).
Added some voice processing presets under Processing.
DHD version: Disabled The BIMP.
Generic plugin: Renamed to libStereoTool, reorganized .zip file directory structure.
Updated presets.
STXtreme: Add DNS server field to front panel. Without this, NTP time updates failed in non-DHCP mode.
STXtreme: Network settings can now be changed via the web interface (safely; reverted if not confirmed, even after a reboot).
STXtreme: Add whitelist to web interface, required for Broadcaster Traffic Consortium (BTC) traffic information.
STXtreme: Security update, disabled NetBIOS and RPC. (Updater takes longer than normal, about 1 minute).
STXtreme: Enabled streaming for a specific customer (hidden under Debugging settings for now).
STXtreme: Added display with unit UTC time.
STXtreme: Filled in IP address might be incorrect if you enable DHCP, so displayed disabled.
MicroMPX: Reduced memory usage of decoder (stand alone and library) by 60 MB.
MicroMPX: Formalized GPO-over-MicroMPX specification that is supported by multiple vendors (manual appendix D).
MicroMPX: Bug fix: Widgets were not covered by access rights, so logging in or out had no effect.
MicroMPX decoder library: Added ump:DecoderGetBufferFillIgnoringGaps function that returns how far the buffer is filled, if we jump over any gaps.
Special thanks to CallumCat (TSRh) keygen release and Blackrider (TSRh) Internet check patch release.

2 September 2023 – Added new VST (big thanks to Blackrider TSRh)
19 October 2023 – Thanks to Blackrider gift release 🙂
20 October 2023 – Added latest DSP and VST64 (Detected as false positive)

23 October 2023 – Added VST x86 version (Detected as false positive)
14 November 2023 – Added Stereo tool x64 version (Detected as false positive)
Stereo tool x86 10.11 (May detected as false positive)

(Registered Silent Install Repack) x86
Stereo tool x64 10.11 (May detected as false positive)

(Registered Silent Install Repack) x86
Stereo tool x86 10.10

(Registered Silent Install Repack) x86
Stereo Tool Enterprise 10.10

(Registered Silent Install Repack) x64
VST & DSP plugin (Salute to Blackrider TSRh) 10.11
VST & DSP plugin (Salute to Blackrider TSRh) 10.10