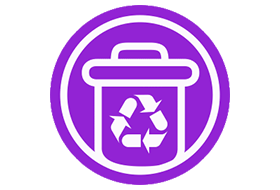 Total Uninstaller зowerful by nature, and privacy by default. This is the all-in-one uninstaller built for everyone. Built with performance and privacy in mind, Total Uninstaller is packed with all the features to completely remove the app, leftover files & services, effectively reclaim drive space, fix install errors, improve startup & program response speed, and the overall stability of your Windows PC.
Everyone's superpowers in one professional toolkit built to completely remove any Windows app & associated leftovers
Easy to follow
It is intuitive for everyone. Complete the removal effectively: select program > Run Analysis > Complete Uninstall > Uninstall Summary.
Total uninstall
Totally uninstall all files, registry entries and configurations related to the removing app, and you will get an automated and fast removal.
Remove corrupt app
Completely remove the stubborn files and data, especially those always hiding somewhere in your folders and hard disk.
All the features
Intuitive, streamlined and centralized experience
The simple-to-use interface is built for everyone to use, and allows you to effectively manage all of Windows apps in one simple, yet powerful place. You can easily locate the unwanted app, conveniently review the app information like app vendor/developer, file size, install date & other properties, and completely remove all content of the app with a few clicks at a lightning speed.
Compact list and interactive visual app overview to get the big picture
The overview provides an at-a-glance information of all the apps in your device. It allows you to effectively and clearly review all the installed apps via either the traditional compact list view or the to-be-released interactive visual map (development in progress), allowing you to view apps sorted by install date, app size, Windows official app in compact list view as well as software category in visual map.
An uninstall powerhouse with automated and fast workflow
Total Uninstaller is built natively to be fast, lightweight and efficient to uninstall any unwanted app thoroughly without any clutter. Everything is automated and optimized for speed, allowing you to perform total uninstall tasks within minutes, completely removing the app & associated leftover files. It forces the running apps to exit completely, initializes the uninstall process, cleans up all the leftover files & Registry entries effectively, and then removes all the services if available.
Intelligent corrupt app removal and uninstall errors troubleshooter
The smart search and removal capability for the app of corrupt files & Registry entries are well engineered to resolve the issues like the uninstall process not initialized, missing app uninstaller, and no-reponse uninstall function in the Apps and Features. With the effort to effectively remove all the items, the errors caused by incomplete install or uninstall are resolved with ease. A dedicated uninstall troubleshooter, developed in progress, will include all the tools to fix these issues completely out of the box.
Safe uninstall process with backup & restore mechanism in place
A system restore allows you undo system changes by reverting your PC to a previous restore point, which, if enabled, will be automatically created for every uninstall in the System Restore under System Protection, where you can restore critical system settings in case that the uninstall process can't be completed as expected, offering a sense of calm and confidence when using Total Uninstaller for any app removal. Please be noted you will have to turn on system protection option for the creation of a restore point.
Extra handy tools to better manage your apps & improve performance
Based on feedbacks, our development team will continuously release utility tools to make your machine run in a better shape on a daily basis. Currently, Total Uninstaller is empowered with Registry Manager, which is a better Registry editor for you to search & replace Registry keys, values, and data effectively, and System Tools, which conveniently include the most used system tools of Windows like Registry Edit, DirectX Diagnostic Tool, System Information, System Configuration Utility, Disk Cleanup, Disk Defragmenter. For the development progress of all the new features, please visit this page for the details.
Privacy and security are the essential features by default
With privacy and security by default, Total Uninstaller keeps and encrypts everything on your local disk. No login is required and nothing of personally identifiable or sensitive is tracked or stored. Your devices and your data stay anonymous. After years of continuously developing & polishing, Total Uninstaller, built on top of these pillars, is now to allow you to manage all of the apps in one place with an ease of mind and confidence.
Priority support and premium Custom fix support with satisfaction
At Total Uninstaller, we stand by and are proud of the excellent support provided for every customer, who are treated with positive 1-day-reponse from real people & workable solutions delivered within 5 days, as well as the exclusive Custom fix feature that enables you to request any help to our developer team directly, who will analyze the submitted issues and then send you a custom fix once resolved, prior to a new version release.
Thanks to UZ1 release.
May detected as false positive…
Disable AV and bypass.

(Cracked Silent Install Repack) x86