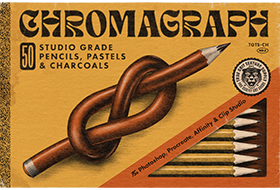 Every great artwork starts with a sketch, so why settle for clunky digital pencils that look good from afar but far from good?
Chromagraph turns the page on the status quo, with 50 ultra-realistic pencils, pastels, and charcoals built to meet the demands of the modern digital workflow, from rough concepts to studio-quality finished art and everything in between.
What you'll dig:
Realistic results without burning through reams of artist paper and supplies.
Huge variety of brushes to accommodate a wide range of styles.
Designed to emulate popular fine-art tools.
Built from scratch to ensure optimal performance in each compatible app.
Easily edit embedded brush textures for custom results.
Archival paper texture templates add extra tactility to your work.
Get to know your brushes quickly with a handy user guide included.

What you get:
50 x brushes for your preferred app including:
Traditional graphite sketchers.
Coloring pencils.
Tilt shaders.
Specialty pencils.
Charcoals.
Pastels.
Oils.
Erasers.
2 x classic paper texture canvases.
Installation instructions and user guide.
(Retail)