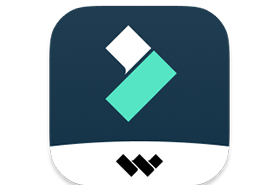 Wondershare Filmora is a professional video editor to express your creativity and amaze with beautiful results. It has all the video editing tools to create Hollywood-like home movies with titles, effects and transitions from all regular videos, audio and photos.
Wondershare Filmora allows you to cut, edit, merge, and trim clips. Furthermore you will able to add your favorite music dircectly into your movie to create the perfect atmosphere. Also you can create beautiful animated messages from text and titles library.
This Wondershare software also allows you to import video clips of various formats, then save them to the disk as a different type of file. You can save videos to play on portable devices like iPhone, iPad, iPod, etc. or burn DVD for better video preservation.
Another option allows you to share instantly with family and friends with easy upload to Youtube, Instagram, Facebook, WhatsAPP, etc.
Wondershare Filmora allows you to turn your home video into something extraordinary with minimal effort. In addition, expand your imagination with over a hundred unique visual effects.
No matter it's a wedding video, love movie, travel story, life documentary or party record, it is just so easy to turn it to a treasured home video and share it with everyone!
Wondershare Filmora Basics:
4K Editing Support. Edit and export videos at resolutions of up to 4K.
GIF Support. Import, edit, and export .GIF files.
Noise Removal. Remove unwanted background noise easily.
Reverse. Flip your clips and play them backwards.
Social Import. Import photos and clips directly from Facebook or other social media platforms.
Precision Speed Control. Make your clips up to 100 times faster or slower. Perfect for time lapses.
Frame by Frame Preview. Jump through your audio and video tracks one frame at a time for precise editing.
Color Tuning. Adjust the white balance and dynamic range of your clips.
Pan and Zoom. Add panning and zooming movements to still footage.
1:1 and Portrait Support. Edit videos with aspect ratios of 1:1 (square) or 9:16 (portrait) with no black frame.
More Music and Text Layers. Add up to 5 text tracks and 10 music tracks to your timeline.
Camera Shake. Choose from a variety of camera shake effects and apply them easily.
Get a professional-looking movie in minutes. Take your video to the next level by adding impressive Still and Motion Graphics. Transform a movie into something spectacular with handcrafted, overlays and filters.
Wondershare Filmora Advanced Tools:
Advanced Text and Title Editor. Create your own animated titles or adjust premade titles in ways you like.
Picture in Picture (PIP). Place multiple videos in the same frame! Layer many movies into one frame to tell different angles of one story.
Screen Recording. Filmora makes it easy to screen record any program or games.
Video Stabilization. Smooth your shaky Action Cam footage in one click.
Solit Screen. Showcase your story from different perspectives and create visual interest, by displaying more than one video simultaneously.
Green Screen. Shoot videos in front of a green or blue screen and merge with other backgrounds, to create special effects like the professionals do!
Tilt Shift. Add some style to your videos by easily transforming them into fun, tilt-shift style miniature scenes.
Scene Detection. Save time editing by automatically scanning video clips for scene changes, to separate footage into individual cuts for advanced editing.
Audio Equalizer. Fine-tune your music and audio tracks.
Flash And Hold. Bring movement to still photos by fading in and out of the focal point to seamlessly integrate into your video.
Wondershare Filmora allows your Videos an Photos to Trim, Hue, Merge, Crop, Rotate. In addition, you will able adjust Brightness, Saturation, Contrast, Aspect Ratio and Speed (0.2X-5.0X).
The software also include the audio editing options, such as Trim, Split, Volume, Fade In, Fade Out, Voiceover, and Speed (0.2X-5.0X).
What's New in Wondershare Filmora X:
Motion Tracking – Attach an element to a moving object in your video easily with auto motion tracking.
Keyframing – Customize animation by adding keyframes to change position, rotation, scale and opacity of a clip.
Color Match – Match the color of selected clips to another frame from another clip.
Audio Ducking – Quickly fade your music so your dialogue stands out.
Keyboard Shortcuts Editor – Edit faster using hotkey commands.
New UI and switch dark/light mode – Switch between light and dark mode for all day editing comfort.
Plain Text – Added flexibility to editing using plain text.
Advanced Title Editing ( for Win only) – Change position, rotation and scale of a title (as a whole) on the player.
New Effects – 30 new elements and 9 callout titles.
Touch Bar (Mac) – Preview and scrub through your timeline using the touch bar.
System Requirements
Check if your Windows computer is compatible with Filmora X.
Supported OS
Windows 7/Windows 8.1/Windows 10 ( 64 bit OS ONLY)
CPU
Intel i5 or better, 2GHz+. (Intel 6th Gen or newer recommended)
RAM
4 GB RAM (8GB required for HD and 4K videos)
GPU
Intel HD Graphics 5000 or later; NVIDIA GeForce GTX 700 or later; AMD Radeon R5 or later. Please keep your graphics driver updated.
Disk
10GB free hard-disk space (SSD recommended)
Remark: Disable check update, DLL replacement crack.
5 March 2022 – Change back older version due to fail crack
Wondershare Filmora (No Host Block)
(Cracked Silent Install Repack) x64
Wondershare Filmora X Extra Effect
Wondershare Filmora X v10.7.1 (macOS)