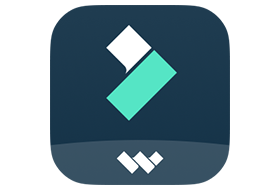 You can easily make impressive and captivating videos using Filmora, a video editor for Windows. With Filmora's built-in editing features, creating videos only requires a few simple steps.
Pick up Your Editing Anywhere
Creativity shouldn't be confined, nor should editing. Filmora editing platform allows you to edit on a desktop or on the go.
Back up Assets to Cloud Anytime
You can back up imported files, project files, favorite effects, or customized settings to the cloud and get back anytime with your Wondershare ID.
Team up for Video Creation
Filmora Workspace provides a workspace for your team to share, discuss, and adjust your video works with top-level security.
AI Smart Cutout
Paint on people, background, or any imperfections to make your videos flawless.
AI Audio Stretch
Your every song is the right song to fit any length of clip with AI Audio Stretch.
AI Audio Denoise
No more wind noise, crowd noise, or any annoying sound. Enjoy the peace that Filmora brings.
Auto Reframe
Resize a row of videos automatically in minutes. No editing skills are required.
Silence Detection
Create a non-stop video full of highlights by cutting all needless pauses smartly.
System Requirements:
You may need to update your graphics drivers to run Filmora. Please keep your computer's graphics drivers updated to get the best performance out of your hardware.
Supported OS : Windows 11/Windows 10/Windows 8.1/Windows 7 (64 bit OS).
Processor : Intel i3 or better multicore processor, 2GHz or above.
(Intel 6th Gen or newer CPU recommended for HD and 4K Videos).
RAM : 8 GB RAM (16 GB required for HD and 4K videos).
Graphics : Intel HD Graphics 5000 or later; NVIDIA GeForce GTX 700 or later; AMD Radeon R5 or later.
2 GB vRAM (4GB required for HD and 4K videos).
Disk : At least 10GB free hard-disk space for installation (SSD-Solid State Disk recommended for editing HD and 4K videos).
Thanks to Jasi2169 release

1. Copy replace the files in installation folder
– FCore.dll
– FExportView.dll
– FFWsRegister.dll
– FMediaLibraryView.dll
– wsUpgrade.dll
2. Patch INFO
– Watermark removed
– All premium effects and plugins enabled
– Login to export fixed, not required but you can login if you want with any email
– Check for updates fixed, will show this is the latest version always
– BorisFX & NewBlueFX effects inside Filmora will work without issue, might need register if run their standalone apps outside filmora
————————
3. Exclude these files in AntiVirus you have,sooner or later all patches keygens cracks hooks are marked as virus from AV but this is False-Positive
(Cracked Silent Install Repack) x64