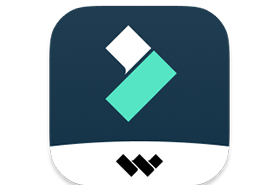 Filmora – A video editor for all creators. Filter, Overlays, Transitions and Custom Titles. Create Without Limits. Discover infinite ways to express yourself. Achieve a refined look with endless effects.
Features and Features of Wondershare Filmora Software
Text and Title : Create beautiful and animated messages from the Text and Title Library
Music Library : Directly Add Favorite Music to Movies
Covers & Filters: Convert movies to something spectacular with handcrafted, overlays and filters
Elements: Add dramatic graphic moves
SIMPLE EFFECTS: Expand the imagination with over a hundred unique visual effects
Picture-to-Picture (PIP) : Put multiple videos in one frame. Layering the film into one frame and adding different angles
SPEED CONTROL: Clip speed control for slow motion
Sharing creative work on social networks
Add video, images and audio in different formats
Edit and arrange elements in a timeline
Sort media by date / time / name
Video capture from computer screen
Split screen
Add and remove Watermark
Supports a variety of file formats
Create video DVDs with beautiful menus
Converting and sharing videos
Wondershare Filmora allows you to import video clips of various formats, then save them to the disk as a different type of file. The list of supported formats includes several popular extensions, such as AVI or MP4, but also WebM, TS or MPEG-2. Moreover, you can export the audio streams only, as MP3s or the video in HTML5 format.
You may also save them in formats that are compatible with mobile devices or uploaded directly to hosting websites, such as YouTube, Vimeo and Facebook. You may also create video DVDs, with interactive menus and burn them onto discs.
Video editing made simple
Wondershare Filmora allows you to import videos, pictures and audio files from local folders, as well as record multimedia, using the available input devices. SD and HD recording devices are supported.
Each track can be individually edited, even after being added to the timeline. You can crop the image, trim its duration, detach the audio stream, capture snapshot, as well as adjust image attributes: contrast, brightness or saturation.
General parameters like resolution, encoder and bit rate can be adjusted in the creation process. The program can save your creation in various formats, so further use is made possible that way.
Powerful, yet friendly video editor
Wondershare Filmora is a powerful application for anyone trying to make the first steps in learning video editing thanks to the easy interface, clean look and straightforward commands. The program is intended to use complex editing functions with simple commands, making it ideal for beginners.
Requirements:
Supported OS: Windows 7/Windows 8.1/Windows 10 ( 64 bit OS ONLY).
CPU: Intel i5 or better, 2GHz+. (Intel 6th Gen or newer recommended).
RAM: 4 GB RAM (8GB required for HD and 4K videos);
GPU : Intel HD Graphics 5000 or later; NVIDIA GeForce GTX 700 or later; AMD Radeon R5 or later. Please keep your graphics driver updated.
Disk : 10GB free hard-disk space (SSD recommended).
Remark:
7 May 2020 – Change back to older version. Tested OK.
(Cracked Silent Repack)