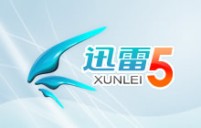 It is a popular Chinese download manager and file sharing client that supports BitTorrent, eDonkey, Kad, and FTP.

It is mainly used in the Mainland China and the software is only available in Chinese,
although recently an English translation has been released.
The client is developed by Thunder Networking Technologies,
a Shenzhen startup formerly known as Sandai Technologies (三代科技).
They also offer download accelerating services which have been downloaded
and installed by over 80 million users. Xunlei's websites attract over fifty million hits per day Works well in Windows 7
(Best Torrent Downloader bypass ISP)