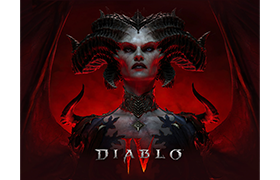 Blizzard at this year's BlizzCon 2019 in Anaheim, California formally announced Diablo IV to the world, building on the 2012-released Diablo III as promised, after the company announced a refocus on its existing franchises.
According to Blizzard, the game's premise stands as "Diablo IV takes place many years after the events of Diablo III, after millions have been slaughtered by the actions of the High Heavens and Burning Hells alike. In the vacuum of power, a legendary name resurfaces."
Blizzard claimed Diablo IV would have darker, grittier overtones such as in the earlier entries in the franchise, a style that was left somewhat in the background for Diablo III. There will be more blood, there will be more gore, and for now, three classes have been announced that will be your avatars in partaking in violence on Diablo IV: the barbarian, sorceress, and druid. Blizzard has also said some words regarding a technological push in the game, claiming that "This technology is at the heart of everything players will see, hear, and feel — delivering much higher fidelity and a more engrossing experience." No details on what exactly this meant were shared by the company, though. Chek out the reveal and gameplay trailers after the break.