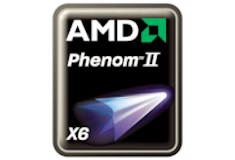 Officially branded the Phenom II X6, AMD won't be launching these processors until some time in the future. But today AMD is disclosing some basic details about the parts. We're also mixing in our knowledge of internal AMD roadmaps to paint a clear picture of AMD's 6-core strategy.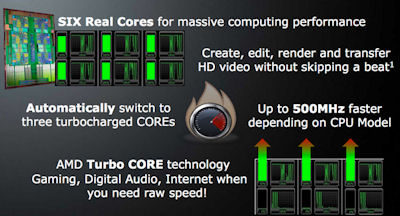 The more cores at the same TDP feature that Intel delivers with the 980X, AMD is also promising with Phenom II X6. The difference is that these are still 45nm parts. While we'll have to test them to be sure, AMD currently indicates that the entire Phenom II X6 lineup will be rated at 95W or 125W TDPs. It's all manufacturing tricks that make it possible (good job GlobalFoundries). In theory you should be able to buy a Phenom II X6 and have it operate in the same power envelope as a Phenom II X4 965.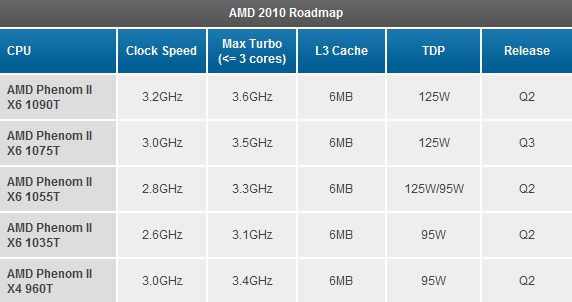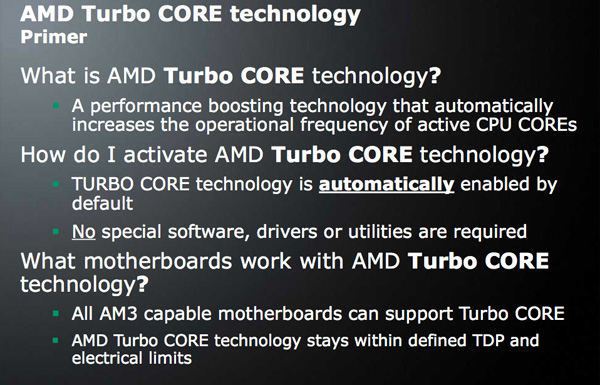 With the Thuban cores AMD is introducing its version of Intel's Turbo Boost technology called Turbo Core. AMD has yet to implement power gating on its processors, so Turbo Core works a little differently than Intel's Turbo.
Turbo Core kicks in when 3 or more cores (on a 6-core part) are idle. When this happens, the frequency of those three cores is reduced to 800MHz, the voltage to the entire chip is increased, and the remaining three cores are turboed up by as much as 500MHz. It doesn't get any more granular than this. If you have 3 or more cores idle, then the remaining turbo up. In any other situation the CPU runs at its normal clocks.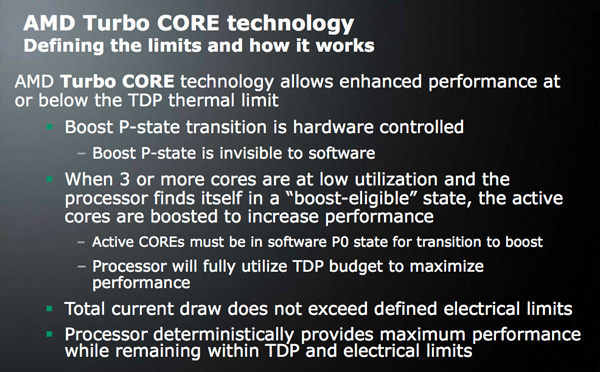 The CPU handles all monitoring and does the clock/voltage management itself. The switch to turbo up cores apparently happens fast enough to deal with Windows moving threads around from core to core.
Turbo core is triggered by a deterministic system that is based on load demand and current operating conditions (not temperature).
Cool'n'Quiet is active throughout the turbo process. What actually happens is that when CnQ looks to see if a set of cores should be downclocked, it also has the ability to increase the frequency of other cores.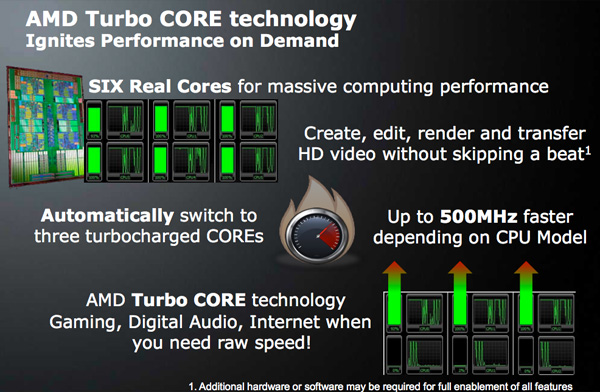 This isn't nearly as elegant of a solution as Intel's turbo. The idle cores are never actually shut off, and voltage to all cores is increased to reach the higher clock speed. However if it works as advertised with no drawbacks (e.g. underclocking 3 cores when you actually still need them) then it's definitely better than nothing for the Phenom II lineup. AMD will also have quad-core CPUs with turbo core support based on the new Thuban cores.
The great news? All Socket-AM3 and AM2+ motherboards will work with these new Phenom II X6 CPUs with nothing more than a BIOS update. The boards do have to support the TDPs the chips are rated for of course.
Pricing and performance are both unknowns at this point.