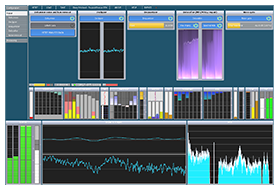 Stereo tool is a software-based audio processor which offers outstanding audio quality and comes with many unique features. It is used by over 1500 FM stations ranging from small local stations to 50-100 kW stations and nation-wide networks with dozens of transmitters, thousands of streaming stations and many DAB+, HD, AM and TV stations. It can be used for both live and file based processing.
If you don't use Stereo Tool for FM processing, Basic suffices.
FM Standard offers "standard" FM processing, stereo and RDS encoding. The processing in this license is comparable to what many high end (00+) hardware boxes offer. In most markets, this license will make you one of the louder stations on the dial.
FM Professional adds our special Composite Clipper to the processing. This is the same clipper that's in the Omnia.9sg and the Omnia.9 and Omnia.7 are being upgraded to it. The Composite Clipper takes the stereo pilot, stereo encoding and RDS into account when generating the composite MPX signal, which increases the headroom for audio by a lot. You can typically generate a signal that's 2-3 dB louder without sounding more clipped, which results in a much more dynamic and much higher fidelity signal. Beside that it unlocks our "Asymmetric L-R" mode, which adds another 1 dB or so. Beside these advantages to the audio signal, the clipper can also analyse the RF spectrum after the exciter, and optimize the signal to reduce reception issues in fringe areas and in multipath areas.
If you can use Stereo Tool to generate the composite MPX signal, we highly recommend the FM Professional version, which sounds much better and improves your reception. To be clear, with FM Standard you're not doing worse than most high end hardware boxes, but FM Professional really takes it to another level – assuming proper hardware you'll be the loudest and cleanest station on the dial.
Declipper
Due to the so-called loudness war, where everyone wants their track to sound louder than any other track, nearly all music from the last 20 years or so has been clipped during mastering. This causes several issues:
It sounds distorted
It lacks dynamics
Low bitrate codecs are using a lot of their bits to encode the distortion, leading to much more lossy compression (MP3, AAC, …) artifacts.
To make things worse, audio processing tends to boost softer sounds, in this case, the distortion, which worsens these problems. The Declipper repairs the audio before it enters the processor.
Our declipper is also used by police forensics labs. The following video shows what it does to clipped audio:
Delossifier
The Delossifier improves the sound of lossy compressed audio. It's targeted at repairing low bitrate MP3 and MPEG2 files. Use this if your playlist contains low bitrate tracks. (But please, do everyone a favor and replace them…. With clipped audio that's usually not possible, but low bitrate is a different story.
Advanced Dynamics
Advanced Dynamics was added in Stereo Tool version 8.50. It consists of 2 parts:
Auto EQ is the most spectacular part. It adjusts the sound before the AGC without compressing it. This makes it possible to have a much more consistent output without sounding processed. Since it doesn't compress the audio, it doesn't add density and doesn't cause pumping or breating. Auto EQ can achieve the same spectral consistency that multiband compression can, without those side effects. It does not affect audio levels, only the spectrum.
Dynamic Ratios makes it possible to have a different ratio in the compressors depending on how much they are pushing the level down. When it gets deeper, it gets steeper. So a very loud sound will be compressed more.
This video shows the Auto EQ in action:
2022/04/17 v9.90
Added Bass Exciter.
Added Highs Exciter.
AGC: Matrix mode: Added relative threshold per band, allowing more stereo widening for certain bands.
Clipper Multipath Stereo: Didn't work properly for values > 90 degrees. And split the settings for FM and streaming.
Streaming: Added stereo reduction filter to improve streaming audio quality at lower bitrates.
Streaming: Updated IceCast libShout from 2.4.1 to 2.4.5.
AES67: Added LiveWire+ channel detection.
AES67: Multiple instances can read AES67 now.
AES67: Support on Linux and Mac added.
Added L-R Phase shift filter. This tends to sound warmer and wider, and more natural on extremely panned music.
Big rewrite of the parameter handling code.
RDS parser: Ignore weird characters at start of included Unicode files (UTF-8, UTF-16, UTF-32).
I/O settings: Simplified settings, for example ASIO is now enabled if you select it in any output and does not have its own on/off anymore.
Bug fix: Stereo Image bad a bug that caused audio to be smeared out in time. Must have been there for years.
Bug fix: Lowpass filter difference mode did not work.
Bug fix: Multibands with very large negative Density values sounded strange.
Bug fix: Entering \+64 – \+99 for RT+ could cause crashes.
Bug fix: Lowpass filter was partially enabled in Bypass mode for non-FM outputs.
Bug fix: BIMP: Disabling Input 2 didn't disable The BIMP! So it kept processing and adding audio.
Bug fix: BS412 in low latency modes used an extreme amount of CPU.
Bug fix: ASIO on input 2 with very low block sizes with non-ASIO on input 2 could cause the ASIO code to incorrectly complain about unresponsiveness.
GUI: Replaced "blocking" checkboxes by a single checkbox under Configuration.
GUI: Advanced RDS now only set for UECP inputs, if you select Advanced features yourself they will just be enabled.
Reduced memory usage by about 200 MB
JSON interface now supports some of the meters.
Added and updated presets.
ST-Enterprise: Added AES67 input.
ST-Enterprise: Fixed synchronization of 2nd input.
ST-Enterprise: Full I/O framework redesigned, now ready for release.
STXtreme and new GUI: Inactive filters in top bar hidden.
STXtreme: Added I/O settings to front panel.
STXtreme: Warning about I/O speeds was accidentally shown on the font panel, now only in logging.
Relay: Added support for sending AF frequencies.
MicroMPX: Added version number to web interface.
MicroMPX: Bug fix: Compiler bug caused weird audio glitches in the 64 bit ARM build.
MicroMPX: Added baudrate setting for GPS NMEA input.
MicroMPX library: Added pilot and RDS level info.
MicroMPX library: Added mono only mode (upto 15 kHz, requires at least version 4.1.3 on both ends) for a specific customer.
MicroMPX decoder library: Added estimated sample number in sync mode to match time stamps with ancillary data.
MicroMPX decoder library: Added audio demodulator.
MicroMPX decoder library: Allow bigger delay (upto 15 seconds instead of 9).
MicroMPX encoder library: Replaced NIC index (which pointed back to ParSet) by NIC string.
MicroMPX: Bug fix: Minor offset in pilot/RDS levels due to rounding error (worst case was a 0.07 dB difference, that's now 0.03 dB).
MicroMPX: Bug fix: RDS signal could have an offset of a few µs after demodulation.
MicroMPX: Bug fix: Reading huge log files in the web interface could block the web interface.
MicroMPX: Reduce maximum speed adjustment when detecting clock speed problems; large adjustments can affect stereo/rds reception.
Special Repack from CRUDE keygen and crack…. Salute the CRUDE
Remark: FULMOON is not releasing any new updated crack… 9.70 is leave online as well in case fail with 9.90 version.

(Cracked Silent Install Repack) x86
(Cracked Silent Install Repack) x64
Stereo Tool Kantar

(Cracked Silent Install Repack) x86
VST & DSP 9.90 (Cracked) password = CyberMania
CRD keygen crack release
password = CyberMania