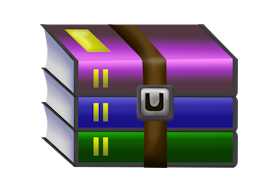 WinRAR is a powerful archive manager. It can backup your data and reduce the size of email attachments, decompress RAR, ZIP and other files downloaded from Internet and create new archives in RAR and ZIP file format
Features of WinRAR:
• Using WinRAR puts you ahead of the crowd when it comes to compression by consistently making smaller archives than the competition, saving disk space and transmission costs.
• WinRAR provides complete support for RAR and ZIP archives and is able to unpack CAB, ARJ, LZH, TAR, GZ, ACE, UUE, BZ2, JAR, ISO, 7Z, Z archives.
• WinRAR offers a graphic interactive interface utilizing mouse and menus as well as the command line interface.
• WinRAR is easier to use than many other archivers with the inclusion of a special "Wizard" mode which allows instant access to the basic archiving functions through a simple question and answer procedure. This avoids confusion in the early stages of use.
• WinRAR offers you the benefit of industry strength archive encryption using AES (Advanced Encryption Standard) with a key of 128 bits.
• WinRAR supports files and archives up to 8,589 billion gigabytes in size. The number of archived files is, for all practical purposes, unlimited.
• WinRAR offers the ability to create selfextracting and multivolume archives.
Recovery record and recovery volumes allow to reconstruct even physically damaged archives.
• WinRAR features are constantly being developed to keep WinRAR ahead of the pack.
WinRAR - What's new in the latest version


   Version 6.00 beta 2

   1. "Convert" and "Wizard: Unpack an archive" commands report
      the file open error if archive was deleted by some other application
      before processing. Previously they skipped such archives silently.

   2. "Find" command issues "No files or folders selected" warning
      for no items selected and "Selected items" search area.

   3. Bugs fixed:

      a) in beta 1 names of interface themes were added to "Folder tree"
         submenu instead of "Themes";

      b) %arcname% variable was not expanded in archiving dialog
         profile name when used in default profile.

Special build with latest windows 10 theme.
20 December 2018 – Change installer registered mode/ pack. Winrar auto pick license and using original installer for easy update. Setting updated to use maximum compression.

10 Jan 2020 – Fixed setting using INF. Chinese edition using retail original edition.
23 April 2020 – Replace Chinese edition with original retail paid bannerless.
7 July 2020 – Update Chinese WinRAR version.
(Registered Silent Install Repack 6.00 Beta 2)
x86
x64
(Registered Silent Repack 5.91)
x86
x64
官方简体中文正式无广告版
(Chinese Registered Silent Repack Winrar 中文版 5.91 无广告)
x86
x64
Original Chinese Hidden Paid Link….官方隐藏付费版
32 bit
https://www.win-rar.com/fileadmin/winrar-versions/sc/sc20200409/rrlb/wrar590sc.exe
https://www.win-rar.com/fileadmin/winrar-versions/sc/sc20200706/rrlb/wrar591sc.exe
64 bit
https://www.win-rar.com/fileadmin/winrar-versions/sc/sc20200409/rrlb/winrar-x64-590sc.exe
https://www.win-rar.com/fileadmin/winrar-versions/sc/sc20200706/rrlb/winrar-x64-591sc.exe